We at Mindskillz strongly believe that business alliances create synergy. There is no better approach to solving challenges than the famous saying "Two heads are better than one". Collaboration and strategic partnerships are fundamental to improving business outcomes.
Big breakthroughs and progress can't happen in silos. Working collaboratively with partners – within an organization as well as within your ecosystem to solve business problems – generates the kind of energy that fuels growth, innovation and creativity.
Our bigger vision is in helping in empowering people, adding confidence and making them better at what they do, leading to mental & physical growth and a better quality of life. Developing value-aligned partnerships that focus on common goals and complementary strengths is key to ensuring successful outcomes for all.
Mindskillz & Tennex Consulting
stepping stone to success
Mindskillz in association with Tennex Consulting has been working on bringing highly customized Skill Development Programs for college graduates and new leaders who are looking to start their careers and manage their roles as effective leaders respectively. 
These programs add value to your career by helping you invest in yourself for a better future. It is a blended approach where your skills and experience transition into scaling up and gaining expertise in the world of corporate. 
A good carpenter says, "give me six hours to chop down a tree and I will spend the first four hours sharpening the axe". It is important to "Sharpen the Axe" first if you want to be different, and if you want a cutting edge above the rest to accomplish your goals.
Here are a few programs we are currently offering:
1. Step Up – Campus to Corporate Program for final year students
2. Young Entrepreneurs – Entrepreneurship training program for college graduates
3. LEAP – Leadership development program for new leaders working in a company
So get started and sign up for these programs, because the future belongs to those who believe in the beauty of their dreams. 
Make your school's communication digital. Save Time, Paper and Money through the Talkative Parents App. Wondering what this is about? Let me introduce to you an innovative and cost effective way to communicate effortlessly with parents and schools through an interactive app called Talkative parents.
It is a two way communication platform dedicated to Schools and Parents with multiple features like a Noticeboard, Sounding Board, Virtual Classroom, Events Calendar, Online payment facility and Cross-channel communication.
Some of the benefits of the app are – Controlled communication by the school, Cost saving and effectiveness, Cross-channel communication, Push alerts on real-time basis, High Privacy while sending msgs to parents, Unlimited msgsing, Plug and Play system with no up-front cost, low data usage as it is optimised for less data consumption and simple ease of access to the app.
You can view assignments, enjoy learning through video classrooms, sync your work with your personal calendar, pay school fees, use the Email or SMS gateway, send notices to targeted groups and ensure complete confidentiality of information shared and exchanged.
The future lies in digital communication and the virtual world. The innovative Talking Parents app is an advantage for parents and schools as it is extremely relevant to the current scenario of schooling.
Online Training for Teachers
Teaching online benefits both students and faculty. Online teaching provides instructors with greater flexibility to address varying learning styles and use different technologies.
The future of education lies in familiarizing with the concepts of Online Teaching. Adapting to Change with the Transition from Classroom to Virtual. Coping with Challenges that accompany Virtual teaching and learning absorbed by students. Learn how to deliver content in an engaging manner. Learn the different tools, platforms and techniques used to make teaching interactive and interesting. Learn the nuances required to train in the Virtual World alomg with Etiquette and it's impact on teaching.
Where Education, Care and Play go Hand in Hand!
Little Wonders at Mindskillz is an initiative that focuses on the overall development of a child's personality. It is an extension of homeschooling, a holistic approach that focuses on learning through play and fun activities
We have created the learning through an interactive app encompassing math, phonics, understanding of the world, physical exercise, science experiments, cooking and art
We provide daily paper-based activities for those parents looking at reducing screen time. Fun videos on cooking, gardening, yoga, and fitness with an exciting curriculum every day in an organized manner
We also have a weekly session on Indian mythology and fables for those wanting their children to connect with their roots
We have a special session for parents where they can learn from our expert panel of nutritionists, counsellors, and beauticians
For mothers juggling work and home, looking at after school activities and wanting a bit more for their children; Little Wonders at Mindskillz is the place to be!
Laughter Yoga
Dr. Madan Kataria
Developed by Dr. Madan Kataria in 1995, Laughter Yoga took the world by storm. Laughter Yoga is a combination of breathing and laughing exercises, which aids in breathing in copious amount of oxygen and exhaling as much carbon dioxide. This cycle helps oxygenates the blood stream, which in turn reduces stress and improves focus, concentration and work efficiency. This cost-effective therapy is easy to incorporate in any setting and shows evident results in just 10 sessions.
Experiential Outbound Learning by Experts
Any organisation is as good as its Human Resource!! Also, the development of this 'Human Resource', even if they are the GMs of a company with a profile of 10 years plus experience, is actually a continuous process. As they say, "Thoughts Maketh the Man!"
To change the thoughts, in order to convert self into a stronger performer, is a continuous process. This proposed two hour intervention is one of those unique interventions which the GMs would find different and would have key 'MIND EMPOWERMENT' take away which they would find deeply embedded in their sub-conscious mind. This would entail creating a different and stronger empowered SELF, post the two hours intervention.
Science of Storytelling & Presentations by Sanjay Varma
1. To apply skills that enable one to initiate, execute and conduct effective presentations & meetings
2. Analyze different types of communication preferences & flex ones communication style accordingly
3. Useful models of storytelling, strategies & impact Executive / Team level presentations by bringing in effective storytelling
4. Identify ones strengths and develop them to create lasting impressions
5. Learn essentials of Executive presence, body language, powerful physical postures and power words
Harmonica huddle by Vasudev Prabhu
"Harmonica Huddle is about learning a new musical skill. But more importantly, it's about applying that new skill to experience universal values in a radical and highly effective way. These are values like Collaboration, Inclusiveness, Commitment, Goal-centricity, Communication, Delegation, etc. The program combines serious fun and serious learning and produces outcomes that are both inspiring and meaningful."
Fire Walk allows and motivates people to believe in achieving impossible and extraordinary goals. Fire Walk can challenge our minds, break our internal self-created barriers, witness the power of a high energy environment and also bring in a transformational experience! Fire walking is held to imply that the feat requires the aid of strong faith, or on an individual's ability to focus on "mind over matter".
Art therapy does not require you to have artistic experience or talent. You need not to be creative. It is another way to express your emotions when it's not easy to express in words. Each person can heal themselves with Art, when doing art for therapy you can just express anything you want, nothing is wrong.
You can channel your feelings into colors and work through your emotions. The very presence of color has a positive effect on human mind. This whole process helps for self-discovery. If you know your inner conflicts you heal better.
Regatta Sailing by Shakeel Kudrolli and Hajeebhoy
The primary objective of the Mindskillz – Aquasail collaboration was to improve bonding and adaptability across various leadership positions. This was an experimental outbound program to help create an awareness of different types of leadership and to manage change across various verticals effectively. The sporting event helped develop multiple team building and leadership qualities such as being resourceful, goal visioning, risk taking, innovation etc. The program features all three ventures of Regatta- The Gateway of India in Mumbai, Mandwa, Alibagh and a beautiful new centre in Goa.
Simulation Learning & Gamification
1. Game thinking – Design your custom board simulation. ( Audience: Junior,Mid, Mid- Senior). Convert live problem statements to Gameboards to make learning fun
2. Design your SIP (Solutions Invented for Problems identified)
(Audience: Junior, Mid, Mid-Senior) and for Leadership. Ideate and synthesize using multiple solutioning tools
3) Intrapreneurship – Think like an Entrepreneur within the organization. Design your aspirational journey in sync with the organization's aspirations
Mindfullness
– Minku Buttar
Minku Buttar is a Mindfulness Facilitator, Energy Work specialist, Pranic and Tibetan Bowls Sound Healer, Yoga Kriya Initiate, Phyllis Krystal's" Cutting the Ties that Bind" facilitator. She is a also the Founder of "The Circle of Joy Retreats" – Rewilding with Nature.
Minku Buttar lived in 8 different countries and now lives in Bangalore, India. Minku's learning's from in-numerous lineages of masters, certifications of various psychotherapy and spiritual modalities, empowered her to have deeper experiential understanding of life. Minku's JOYFULLNESS CODE- 4 E's program – Emanate Joy & Sparkle, Empower, Enable and Embrace your "fearless self" and "Awesomeness"!
Minku has won the Women of Excellence Award through The Women Economic Forum, 2019.
Mindfullness
– Jyothi Shyamsunder
Jyothi Shyamsunder has been a Mindfulness, Compassion and Consciousness practitioner, teacher and counselor for many years now. She is also certified in Presence Oriented Psychotherapy: A Non-Dual Approach (Integrating Mindfulness, Compassion and Wisdom). Her extensive training has been in the Vipassana school of practice. Her extensive training, research and study has helped her render many sessions and retreats for organizations of various kinds, to individuals, teachers and parents.
Jyothi is currently in talks with UCSD (University of California, San Diego) for research and curriculum development on Compassion and Human Consciousness. She was a part of the International Mindfulness Advisory Group (MAG) at RoundGlass, the content development team for Kindness Curriculum (lead by the Dalai Lama) for Emory University in the US, and man international projects involving Universal Human Values and Ethics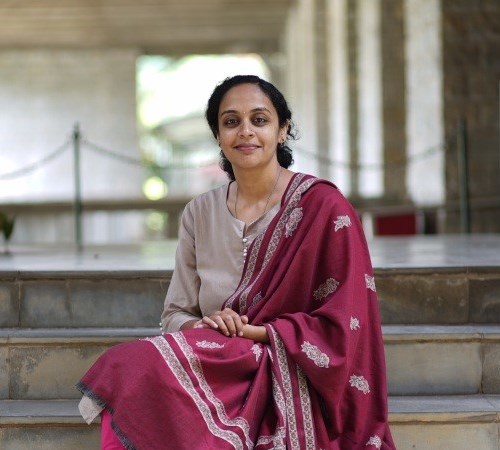 Engineering Happiness
– Dr. Arun Bhardwaj
We do have classes to teach how to do jobs well, but nothing that teaches how to enjoy the job (and our lives) well. Our innovative and interactive workshop offers financial processionals an opportunity to experience core principles of 'Engineering Happiness' – a program designed based on principles of modern research and ancient wisdom to create employee delight, customer delight and thereby stakeholder delight.
About Mindskillz
We are more than just a training company providing skill development that is relevant to your business needs. Our founder and principal along with her team of innovative, result driven team of experts with more than 18 years of experience work closely with you to provide complete training and mentoring to achieve career and business goals. Our programs are highly interactive, fun filled, tailor made, and successful.
OUR SERVICES
We create high impact training and develop content on Personality Development, Positive Attitude and change in mindset, Enhancing Business Communication, Effective Presentation skills, Interpersonal skills, Service Excellence, Leadership programs, Time management, Stress management, Professional Selling Skills, Channel management, Negotiation Skills and Conflict Management, Risk management, Handling change, Assessment centers, Train the trainer, Culture sensitivity and Accent neutralization with a pan India reach making cross country training standardized , qualitative and cost effective.